We repair and install Gyprock ceilings throughout Sydney
Best Sydney Plasterer, John Glen's plastering company, has been repairing and installing Gyprock ceilings in Sydney since 1986.
You can trust John's team of plasterers do quality work with personal services at affordable prices.
We're experts at all aspects of Gyprock ceiling installation and repair. Whether it's a simple installation, a suspended ceiling, vaulted ceiling, shadowline finishes, or ornate cornices, we've got you covered. We can even Gyprock over those old-fashioned vermiculite ceilings.
Quality Guaranteed.
We will do a final inspection, prior to painting, using additional lighting to make sure that small details aren't overlooked.
CEILING INSTALLERS SYDNEY
Install Ceiling with Cornice
Most ceilings that we install have a simple cornice or no cornice at all. This is our bread and butter work that you can trust us to do quickly and to a high standard.
Install Shadowline Ceiling
Shadowline finishes are becoming more popular as a way of giving you a top-end modern look. The shadowline ceiling is different to the simple no-cornice ceiling because it has a 1cm gap between the ceiling Gyprock and the walls.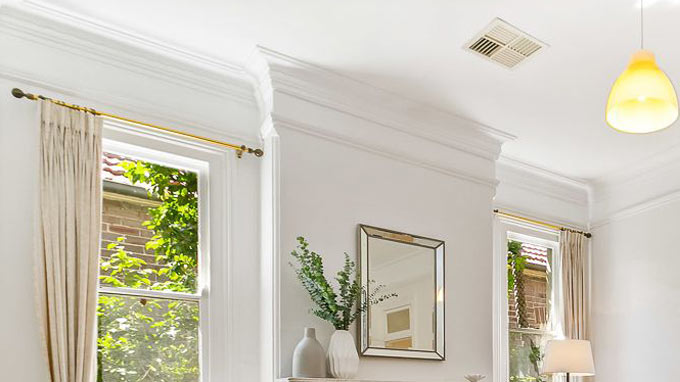 Install Ceiling with Ornate Cornice
Select from many ornate cornices designs to get the look you're after. We can often match an old cornice, but if not, we'll need to re-cornice the entire room with a similar design.
Suspended Ceilings
Suspended ceilings are perfect for rooms that already have a high ceiling and you want to install downlights or ducted air conditioning. We also use suspended ceilings to install a gyprock ceiling over a vermiculite ceiling.
Install Ceiling Hatches / Manholes
We can quickly install a ceiling hatch (which are also known as manholes) to give you access to extra storage in the roof.
Ceiling Roses and Centerpieces
There is a wide range of decorative centrepieces and ceiling roses available, and we can install them professionally for you.
Kitchen Bulkheads
A lowered section of ceiling whose purpose is predominantly to conceal lights and air conditioning ducts, is called a bulkhead. These days, bulkheads are also used as impressive design features.
Complex Ceilings
We have pver 30 years of Gyprocking experience, which means that we can handle the most difficult of jobs. Even complex attic extensions like this one.
Vaulted Ceilings
If you're after a the wow factor, installing a vaulted ceilings is one way to do it. They have more dramatic look, create spaciousness and can keep a room cooler in the summer, but will be harder to heat in the winter.
Repair Cracked Ceilings
Sometimes ceiling cracks can be taped and covered, but sometimes it's better to replace a patch of gyprock to make sure it won't crack again.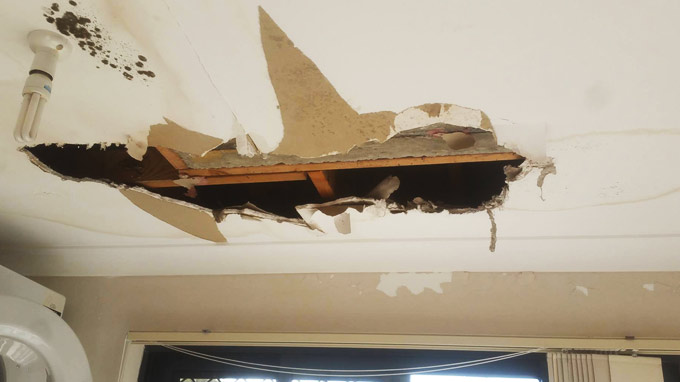 Repair Water-damaged Ceilings
A leaking roof can cause severe damage to ceiling gyprock. If the damage is not too great, we may be able to push a sagging ceiling back into place, otherwise we'll replace the old gyprock with new.
Replace Vermiculite Ceilings
Vermiculite ceilings were quite common in 1970s apartments, but now they look dated and most people want to be rid of them. Covering them with a suspended Gyprock ceiling is by far the easiest solution.
We provide ceiling Gyprocking services in Sydney to an area within a 20km radius of our base at Chiswick. This includes but isn't limited to: Inner West suburbs like Croydon Five Dock, Rozelle, Balmain, Enmore, Glebe, Leichhardt, Drummoyne, Newtown, Ashfield, further west to Homebush, Baulkham Hills, Strathfield, Concord, Parramatta, and also north to Gladesville, Pymble, Lane Cove, Hunters Hill, Chatswood, Hornsby, Ryde, and the entire Eastern Suburbs.