SYDNEY GYPROCKERS
Quality Gyprocking that you can trust
John Glen's gyprocking services company, Best Sydney Plasterer, has been installing and repairing Gyprock around Sydney since 1986. He and his trusted team of Gyprockers will ensure you get top quality gyprocking work at an affordable price with personal service.
GYPROCKING INSTALLATION SYDNEY
We're happy to be your handyman Gyprocker who comes round to repair a hole in your Gyprock wall or ceiling. Whether it's holes, cracks, or water damage, we'll have all your Gyprock repairs done quickly and professionally. No job is too small.
Find Out More…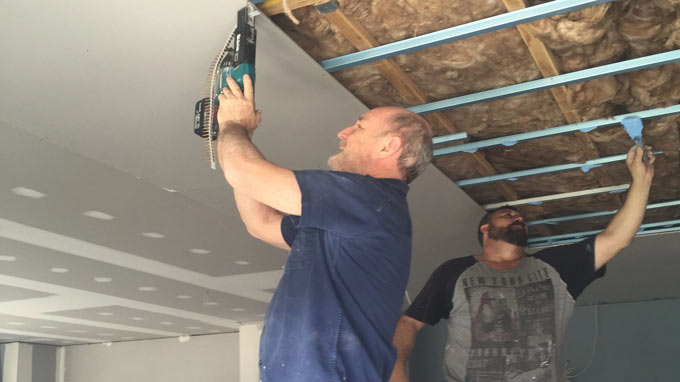 Gyprock Installation
Installation of gyprock walls and ceilings is our bread and butter service. Whether you're installing on a new building or replacing the old Gyprock, or you want to install new plasterboard over the old, our Gyprockers will do a great job.
Gyprock Walls
We can help you install or repair Gyprock walls. We can professionally complete any gyprocking work, from repairing water damaged gyprock to patching over small holes or cracks, to gyprocking a renovated room or an entire house.
Our Gyprockers are experts at installing ceilings. We'll even do a final inspection under additional lighting,  before painting, to make sure that no small detail is missed. We can also Gyprock over those ugly, old-fashioned vermiculite ceilings.
Find Out More…
Gyprocking Guarantee
All our Gyprock repair and installation work is guaranteed. We remove all rubbish from the worksite and leave it clean. John and his Gyprockers are professional, punctual, and work with respect for clients in order to complete the job as quoted and with pride.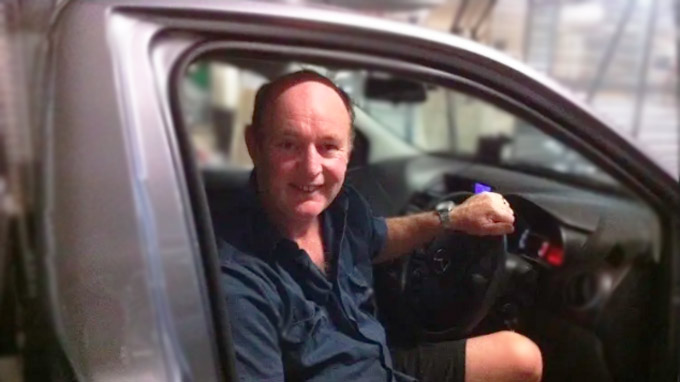 Master Gyprocker
John Glen is a Gold Licence Master Plasterer who has been Gyprocking in Sydney since 1986. John is a Gyprocker who takes pride in his work, and enjoys working closely with clients to make sure they get the quality finish they deserve. He also has a National Police check certification.
ABOUT OUR GYPROCKING COMPANY
What We Do
Our Gyprockers are highly experienced in the following work:
Installing Gyprock on new builds, renovations, extensions
Architectural finishes
Fire rated gyprock installation (certified).
Sound proofing gyprock installation
We specialise in small to medium-sized domestic gyprocking projects, and are equally content to sub-contract on larger domestic projects. We have more than three decades as professional gyprocking contractors in Sydney, and working in fully operational or occupied job sites is never a problem.
Affordable Gyrocking & We Clean Up
All remove all waste materials, and leave the job site clean and ready to be painted.
Why Choose Us?
We have worked with both homeowners and designers to produce work that our customers love. Let us use ourr Gyprocking knowledge and experience to bring your project to successful completion. Call us today.
Need a Gyprocker in Sydney? We provide gyprocking services in Sydney to suburbs within 20km of our Chiswick base, including (but not limited to) Inner West suburbs such as Balmain, Glebe, Drummoyne, Leichhardt, Rozelle, Enmore, Croydon, Ashfield, Five Dock, and further west to Homebush, Concord, Parramatta, Strathfield, Baulkham Hills, and north to Lane Cove, Hunters Hill, Gladesville, Ryde, Chatswood, Hornsby, Pymble, and all of the Eastern Suburbs.
"We recently had John and Pascal doing plastering work in our 100-year-old home. The plaster in three rooms was in a very poor, lumpy condition. Some of the walls also had cracks running almost from floor to ceiling. These guys are artists at what they do. Walls were first prepared with FibaFuse fiberglass sheeting, before being rendered with plaster. They transformed four entire walls into mirror-smooth surfaces. The rooms now look like they have been newly built. They were punctual, cleaned up, so that the rooms were left clean and they were very flexible with their schedule. We'd originally asked John to work on two walls, but after seeing the high quality of their work, we asked if he would repair two other walls.
Apart from having great skill at what they do, both John and Pascal are delightful people. John has a great, dry sense of humour and Pascal is unfailingly pleasant and polite. We spent several interludes swapping funny anecdotes with John and sharing some stories from our life-journeys. John also texted us every morning, before he and Pascal arrived, to ask if we wanted him to bring us a coffee. We've never had any contractor doing work for us making such a thoughtful offer. Thank you, guys. Without doubt, the work you did was very good value-for-money. We cannot recommend you highly enough."
Mel Copeland, Lidcombe, Sydney
"I've had plastering work done on my houses by Best Sydney Plasterer and found that John and his team are reliable, always on time, work fast, efficiently, and to a high standard. I was treated with integrity and respect, and I whole-heartedly recommend Best Sydney Plasterer to anyone."
Mel Copeland, Lidcombe, Sydney
"The entire process, from the first enquiry to the finished product, was so smooth, well communicated and very well executed. Everything happened on time, and the job was completed earlier than anticipated. Faultless workmanship, with a very friendly presence in the house when doing the job. Also, the price was really competitive. Would definitely recommend John without hesitation."
Panos Couros & Alex Galeazzi, Redfern, Sydney