Sydney Inner West & 20km Radius
Let us repair your damaged Gyprock walls or ceilings. We can repair cracks, holes, bulging walls, water damage, sagging ceilings, damaged cornices or any other type of damaged Gyprock that needs repairing.
We're a small, friendly Gyprocking company based in Sydney's Inner West. We've been providing Gyprock repair services to the surrounding suburbs for over thirty years. We specialize in small to medium sized projects, so no job is too small. We're also happy to work as sub-contractors on larger projects.
For small Gyprock repairs, we can sometimes give you an instant quote over the phone.
Types of Gyprock Repair Service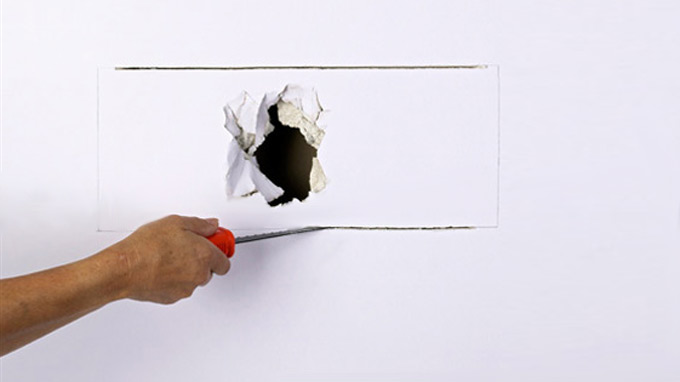 Repair Small Holes
To repair a small hole in gyprock:
Step 1: Enlarge the hole to make it a rectangular, so we can easily to fit a Gyprock patch of the same shape.
Step 2: Attach new timber or a furring to the inside of the hole, so we can screw the Gyprock patch securely in place.
Step 3: Apply paper tape and three layers of plaster. Each layer must dry before next one is applied.
Step 4: Sand it to a smooth finish so the repair isn't noticeable after painted.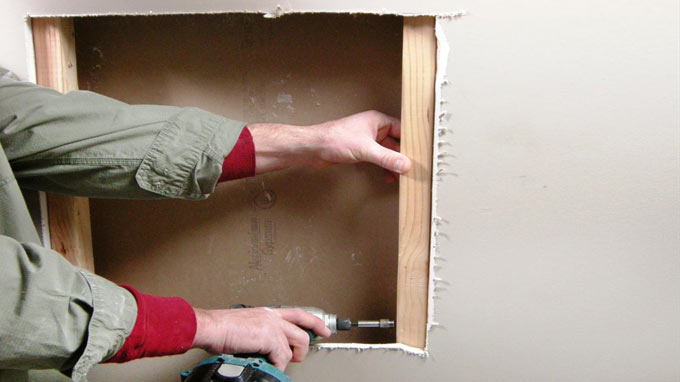 Repair Large Holes
Fixing a large hole in a Gyprock wall or ceiling can be similar to repairing a small hole, the main difference is that we'll cut out a rectangular hole that's the width of the space between the wall studs. That way it's easy to screw the new Gyprock patch to the wooden studs on both sides.
For even larger holes, it's often easier to replace the entire sheet of gyprock, rather than attempting to patch it. Replacing an entire sheet requires two people to lift it into place. It may also be necessary to remove and re-apply the cornice.
Repair Water Damaged Gyprock
It can be tricky to repair water damaged wall or ceiling because we might need to replace more than just the bulging part. Gyprock is like a sponge, it soaks up water, but may not be as strong once it dries out. So for water damaged ceilings we may need to replace the area around the bulge, in order to prevent it from falling in the future.
We may need to use a moisture reader to check if there's moisture in the Gyprock around the hole to be replaced. If there is, we'll wait for it to dry for a afew days, to prevent the new plaster reacting with the moist Gyprock.
Gyprock Crack Repairs
Repairing cracks in gyprock can be trickier than it appears because we need to figure out the reason for the crack so we can use a fix that will stop it from racking again. Possible causes are:
Lack of support behind the joint.
If the house is sinking or moving, the joints are always going to crack.
Rooms with over 3 or 4 joints needs to be back blocked.
Excessive expansion and contraction due to large temperature differences.
Expansion joints need to be added if there's more than a certain length of gyprock.
Repair Gyprock Cornices
The most important aspect of repairing Gyprock cornice is whether the same shape is still available for sale. If it's available, we cut out the old one and replace it with the new cornice. However, if it isn't available, we'll replace all the cornice in the room (not just the damaged part).
Possible complications are:
When attaching cornice to a painted surface it's best to apply a coat of diluted bondcrete first.
If the ceiling isn't exactly level, it's harder to cut the new and old cornice at the correct angles to match up (especially for patterned cornice).
Repair Bulging Gyprock Wall
There are lots of reasons why Gyprock walls can bulge:
Previous repairs weren't done correctly.
Gyprock is incorrectly screwed to the wall frame.
The house is settling.
Gyprock sheets were installed too close together.
It has been damaged by water.
An expert Gyprocker will quickly spot the cause of the damage and apply the appropriate type of repair.
What Thickness Gyprock
The first step of repairing any damaged Gyprock is to determine whether it is 10mm, 13mm or 16mm thick. Nowadays most Gyprock is 10mm thick (especially ceilings), and 16mm is usually only used when fire resistance or sound-proofing is required.
At Best Sydney Plasterer our Gyprockers are able to install all types of gyprock, including the 1-hour fire rated type.
Repair Hole in Gyprock Wall
This video shows the two main stages involved in repairing a small hole in a gyprock wall:
Insert a Gyprock patch.
Tape and apply Gyprock then sand smooth.
"I've had Gyprocking work done on my houses by Best
Sydney Plasterer
and found that John and his team are always reliable, on time, work fast, efficiently, and to a high standard. I was treated with integrity and respect, and I whole-heartedly recommend Best Sydney Plasterer to anyone."
Mel Copeland, Lidcombe
GYPROCK REPAIRS IN SYDNEY
We provide Gyprock repair services in Sydney to an area up to 20km from our Chiswick base, including but not limited to Inner West suburbs such as Rozelle, Leichhardt, Balmain, Glebe, Drummoyne, Croydon Five Dock, Ashfield, Enmore, Newtown, further west to Parramatta, Baulkham Hills, Homebush, Concord, Strathfield, and also north to Pymble, Hunters Hill, Gladesville, Hornsby, Chatswood, Ryde, Lane Cove, as well as all of the Eastern Suburbs.
"We recently had John and Pascal doing plastering work in our 100-year-old home. The plaster in three rooms was in a very poor, lumpy condition. Some of the walls also had cracks that ran floor to ceiling. These guys are artists at what they do. Walls were first prepared with FibaFuse fiberglass sheeting, before being rendered with plaster. They transformed four entire walls into mirror-smooth surfaces. The rooms now look as if they've been newly built. John was punctual, and very flexible with their schedule, and he cleaned up, so the rooms were left very clean. We'd originally asked John to work on two walls, but after we saw the high quality of their work, we asked if he would repair two other walls.
Apart from having great skill at what they do, both John and Pascal are also delightful people. Pascal is unfailingly pleasant and polite and John has a great, dry sense of humour. We spent several interludes swapping funny anecdotes with John and sharing some stories from our life-journeys. Every morning before arriving, John texted us to ask us if we wanted him to bring us a coffee. Never had any contractor doing work for us making such a thoughtful offer. Thanks, guys. Without doubt, the work you did was very good value-for-money. We cannot recommend you highly enough."
Mel Copeland, Lidcombe, Sydney
"We are caretakers for a large domestic complex in Silverwater, we have engaged John on two occasions to
repair some water damaged gyprock
. John's no fuss "let's get it done" approach saves time and money. John deals with the occupants himself, we have no issues with John being left with his workers to get the work done."
Peter & Sue, Silverwater